Why a virus shouldn't disrupt your business.
Companies around the world are reacting differently to Covid-19, asking employees to work from home, banning travel or postponing events and trade fairs.
Organisations face challenges around speed of response in terms of both employee health and wellbeing and disrupted supply chains. All this can have a huge impact on the well-being of the company and the economy as a whole.
It is therefore essential not to let panic overwhelm us, but to make sure that plans are in place to ensure business continuity so as to minimise financial losses and protect the company as far as possible.
Pandemic checklist to help you minimise your risk:
Identify key staff
Designate someone to coordinate communication activities and strategies during the pandemic.
Develop a communication plan to employees outlining how the company will respond to shutdown scenarios or possible workplace infections.
Establish minimum staffing needs, for key points in the business, in case you have to operate with a reduced workforce due to illness.
Identify the top employees and make sure other members have received the right training to replace them.
2. Be prepared for remote working
Analyze the technology, including bandwidth, security and connectivity needed to support employees working from home.
Provides training to staff on the remote use of communications tools such as video conferencing.
Analyses and prepares a work transfer strategy for the functions and processes that can be transferred.
Start preparing as soon as possible! Test remote working!
3. Keep your employees well informed
Make sure all employees know what to do to avoid crises and panic.
Inform them about who to contact, when and how, for every possible scenario.
Review your company's HR policies and advise your employees of their rights in the event of quarantine and imposed time off.
Analyze health insurance to determine what may or may not be covered in the event of a pandemic.
4. Communicate with partners
Get in touch with your vital suppliers and vendors to find out where they stand.
Identify operational and revenue impacts.
Consider alternative suppliers before the need arises.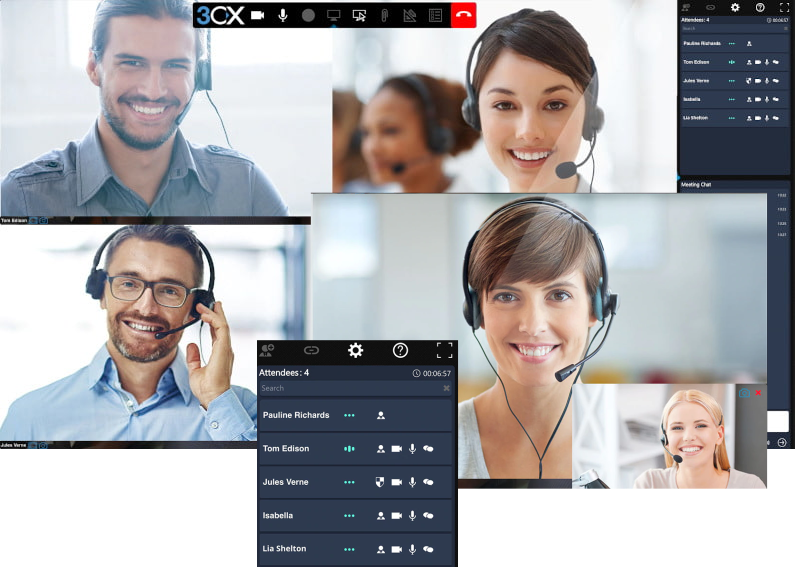 Using the right tools to communicate
Effective responses and prevention of disruptions depend on careful planning as mentioned above, but also on the use of communication solutions that can respond to needs.
Choose a video conferencing solution that can allow you to easily communicate with a large number of people, without having to pay large amounts for monthly licenses or usage.
Make sure both audio quality and video capabilities are high. There's nothing worse than audio interference when you're trying to communicate with a group of people. Good video quality will also help employees feel like they're still part of the team, even if they're not in the same room.
Help employees share their ideas and work. Choose a solution that includes screen sharing options for remote support, as well as the ability to upload PDF files and share documents with your group.