One of the major advantages of a modern communications system is evident in the case of companies with multiple workplaces. The fact that you can have a single telephone switchboard that unifies all these locations also contributes a lot to reducing costs and streamlining communication and collaboration between employees in different locations. If you opt for the cloud-based PBX option, the cost reduction and efficiency increase even more; Hosted PBX solutions often include instant messaging, fast file transfer, conferencing and more.
These points of work can all be linked to the same phone number or can be assigned individual numbers; this can be especially useful for points of work in other cities or even other countries (for which international numbers can be assigned), where it is important to have a local number when calling customers/collaborators in the area.
Example: In the case of a company based in Sibiu and working in Germany, communication between the two interiors will be free and unlimited, thus eliminating the costs of international calls. The German point of work can be assigned a German number on which to receive local calls (from customers or suppliers in Germany, so that they are charged normal national rates) and can call them by displaying that German number; at the same time it can also be assigned a Romanian number to call and/or receive calls from/on that number.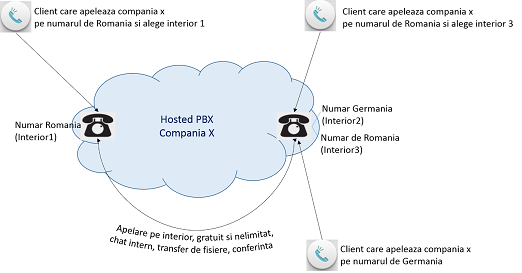 contact the Optivoice team for a Hosted PBX solution that suits your business